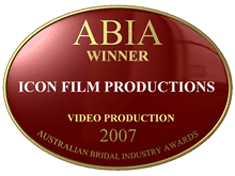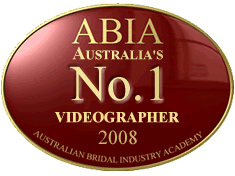 Winner of ABIA State Awards
Approximately 5,700 wedding suppliers; nationally, are nominated each year by brides for these prestigious State awards.
In December 2007 Icon Film Productions won 2007 ABIA Award, Best Videographer of NSW for Excellence.

Winner of ABIA National Awards
ABIA has now developed a National Awards Program to determine the most consistent and highest ranking wedding suppliers in Australia as rated by past Brides & Grooms.
The Academy has combined all of the ratings from all of the brides for all their suppliers, over all states, over the past 3 years and collated all this data to determine the No.1 National Wedding supplier in each of 39 wedding categories of Australia's No.1 Designer of Dream Award for being highest in Australia for Three Consecutive Years.
In July 2008 Icon Film Productions was Nationally Awarded by ABIA, the Winner of Australia's No.1 Designer of Dream Award.
Make Your Memories Last

Your special day deserves the special attention Icon Film Productions will give you when it's time to preserve your memories for a lifetime. We will give you that special attention at a very reasonable price. We offer a variety of wedding packages that allow you to choose one that's right for you.

We have been known for creating beautiful, film-style wedding images for couples that care about personal touch. Let our Professional team of International Photographers, Videographers and Graphic Artist with more than Nine Years of experience share your day with you to ensure that every moment is captured in an elegant yet photojournalist manner. Your wedding is an important day so only trust the best.

With quality cinematography or birthday party, commercial, graduation, baptizing ceremony, family video or other special event, we have the equipment, experience, and commitment to quality that will make your special day memorable for years to come. We also provide the unique option of preserving your memories on video.
Our Cutting-edge Technology

For our production depending to the project we use Canon XL series, XL-H1 High Definition, Sony EXl Full HD, Canon 5D Mark II. Canon 5D Mark II is a Full frame 35mm High Definition camera that not only is a fantastic Digital SLR, but it also shoots stunning full frame High Definition video, there are wide range of prime lenses available to use with this camera which are not available to a normal video camera.

Depending to the project we also use Crane, Jib, Steadycam, Green Screen, Wireless Mic in our production

We use several software platforms to edit and author the final DVD and Blu-ray masters. Some of the software we use are Abobe CS4 Productions Package, Edius, Final Cut, Premiere 4, Photoshop and After Effect.

Our software and hardware are regularly updated to ensure the highest possible quality is provided.
Our Mission

Many companies can capture your wedding day on video. In fact, most do a good job, but Icon Films Productions captures a story. It's a love story, starring the bride and groom, how they met, the love for one another, and how the relationship evolved right up to the special day.

At Icon Film Productions, you'll be dealing from start to finish with the person who will shoot and edit your special day. We only do one event per day, so you'll be sure to have our complete resources and attention. We strive for unsurpassed quality in telling the video story of your day through music, pictures, and dialogue.
Video Productions

Our digital facilities not only produce videos with 'pin-sharp' quality they allow graphics, effects, and other features that will make your video unique.

Digital equipment allows us to utilise an array of graphics, effects, and digital techniques that you're used to seeing on Hollywood movies such as true slow motion, monochromatic (black and white), inserts, multi-screens, framed inserts and 3D Effects.
GALLERY | TIPS | PACKAGES | ABOUT US | CONTACT | CORPORATE VIDEO | VIDEO | PRIVACY POLICY | SITEMAP | EMAIL | TECHNOLOGY | WEDDING VIDEOS | HOME | WEDDING PLANNER | WEDDING BLOG | WEDDINGS | LINKS | PHOTOGRAPHY | WEDDING CARS

© Copyright, Icon Film Productions. All Rights Reserved.